On August 16, Frank Ruvoli released his new EP, Places I've Been. The EP has received a lot of praise musically, but many fans are also infatuated by the album artwork. With what is possibly one of the best indie album covers of the year, everyone wants to know who the artist is behind the work?
The answer: Cincinnati based artist, John Vosel.
"John is an incredible artist! I've always been amazed by the work he does," Ruvoli said.
​Vosel and Ruvoli both attended Wabash College in Crawfordsville, IN. During that time, they were both members of the Phi Kappa Psi fraternity.

"Back in college, he would paint and draw these unbelievable pictures. I always knew when I needed artwork, I'd want to work with him," Ruvoli said.

​The 23 year old Vosel has been creating art since his childhood. He originally started by doing 2D artwork, such as paintings and drawings, but fell in love with sculptures and other 3D art in college. He was excited to work with his college friend, Ruvoli, on this project.

​

"I love the opportunity to be able to collaborate with Frank and make an album cover for his music," Vosel said.

​
This also isn't the first piece of art you've seen from Ruvoli's music that featured Vosel. The pair teamed up on the release of "Take It Slow" when it came out as a single. Both Ruvoli and Vosel promise there will be plenty more collaborations between them.

"We both have needs as entrepreneurs. He needs a successful image to represent the music he is creating, while I need an outlet to spread my name and get my artwork seen by a larger audience," Vosel said.

As Vosel continues to spread his name, he is certainly no stranger to awards for his work. His art has brought him many accolades. Some of the most recent include:

​
• Randolph H. Deer Prize for Outstanding and Continued Work in Art
• The Paul J. Husting Award
• Emerging Artist of the Year at Art Design Consultants
• 1st Place - Randall T. Shepard Architectural Competition
You can follow John Vosel, see more of and purchase his art, and even request customized work by going to his website at
www.johnvosel.com
.
Places I've Been
can be purchased on
www.frankruvolimusic.com
, iTunes, and streamed on Spotify.
Author

Recent news about Frank Ruvoli's music, events, and behind-the-scenes looks.

Archives

Categories

RSS Feed
Powered by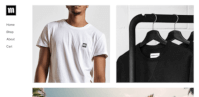 Create your own unique website with customizable templates.